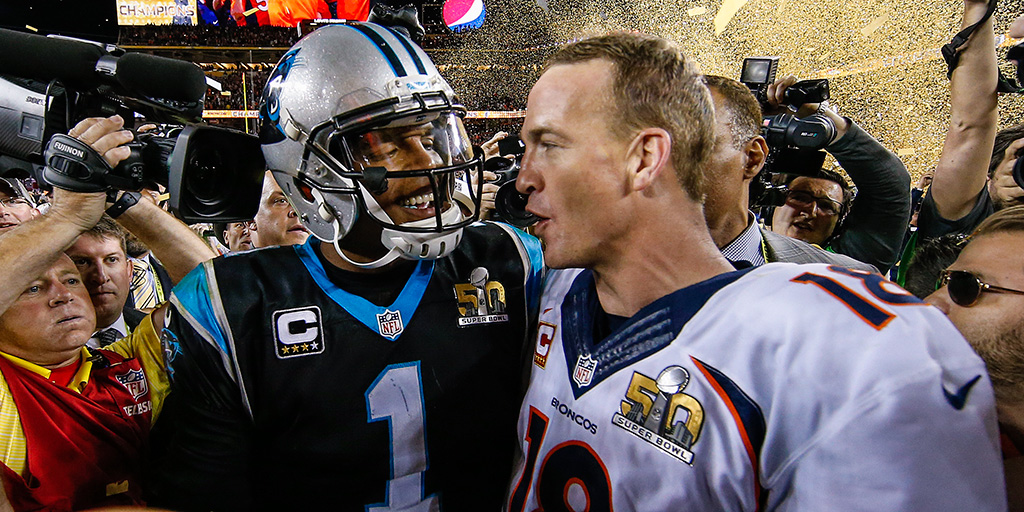 Cam Newton and Peyton Manning (Getty Images)
The weekend that was in sports for me shall I say, a mixed bag.


The unpredictability of College Basketball rears its rather nice and well-needed head. No. 1 Oklahoma got exposed in some areas as the Sooners lost to K-State 80-69, about 35-40 mins later No. 2 North Carolina lost to Notre Dame. Wow, what a year for college sports.

The Golden State Warriors just all but wrapped up a 1 seed Saturday night with a win over the Thunder. Dub Nation is definitely a buzz. Wonder what the atmosphere will be like when they move to the now named Chase Center in San Francisco.

The UFC had a rather uneventful, yet very eventful pay-per view card that went to a revised pay-per view to being a free card on FS1 (still with me or do I need to go over it again? Ok, here goes... just kidding.)

Quick rundown, the co-main was so much of a bore that I thought I was watching Bellator.

Joseph Benevidez just solidified himself as next in line for Demetrious "Mighty Mouse" Johnson for the flyweight championship.

Other winners on this card include Ovince St. Preux, heavy handed heavyweight Derrick Lewis, Josh Burkman and 40 year old, Joe Dirt look-a-like Mike Pyle.

The biggest winners of the night were Mickey Gall and Stephen "Wonderboy" Thompson.

Mickey Gall, who won via submission was granted his golden ticket and will face former WWE wrestler CM Punk, more than likely at UFC 200.

Stephen "Wonderboy" Thompson looked, well, wonderful in his fight against Johny "Bigg Rigg" Hendricks. Used his superior stand-up and world class kickboxing in making the "Bigg Rigg" run more like a 3-cylinder Geo Metro.

Now, on to Sunday, while I didnt have a dog in the race last night. The national anthem was amazingly sung by Lady Gaga, but why did she wear those heels, my dogs started barking and I had on flip-flops, yet I digress.

I did predict Carolina would win, they didnt. Cam Newton put the weight of the world on his shoulders and didn't play like the Cam Newton that won the NFL MVP. He also didnt help matters any by walking off during the post-game press conference.

Von Miller had a rather eventful day, 2.5 sacks and two forced fumbles and that Pey-Pey Manning guy finally got a 2nd Super Bowl ring.

As for the Halftime show, I wasn't overly impressed even though I do like Coldplay and Bruno Mars, but did anyone else thought Beyonce was going to have a flashback to Michael Jackson with that equipment she had on or MC Hammer was going to come out and sing "Pumps and a Bump" or "Cant touch this" the way Bruno Mars was dressed. Yet I digress again, but all in all it was a good weekend in sports. This weekend on the Tailgate Crew, we will do a special Valentine's day show, special shout outs to the special lad or lass in your life as well as talk about NBA All-Star Saturday night as well as Sunday's all star game. As always, Let's Go Tailgatin'.